Distribution Automation Applications
Fault Location, Isolation, and Service Restoration (FLISR)
Automatically minimize the impact of outages—within seconds.
Overview
How Does FLISR Work?
Permanent faults are de-energized by protective relays that open and lock out breakers or reclosers. This lockout creates an outage for the faulted zone, any customers downline of the faulted zone, and—if any kind of miscoordination occurs—customers upline of the faulted zone, as well. FLISR's purpose is to locate that fault, isolate it by opening bounding switching devices, and restore as much load as possible by closing one or more open points between the faulted feeder and neighboring feeders. FLISR solutions can most simply be divided into the following three categories:

Noncommunication
Many distribution feeders are protected by recloser controls that are not augmented with a communications system. It is possible to implement FLISR functionality using local sensing of voltage and current, coupled with close-onto-fault relay logic. This noncommunication FLISR solution allows reclosers and switches located on a two-feeder radial loop to take restoration action after a permanent fault has resulted in lockout. This solution is best paired with a noncommunication high-density coordination scheme, which automatically resolves planned or unplanned miscoordinations.

Peer-to-Peer With Communications
The peer-to-peer FLISR solution is designed for similar system topologies as the noncommunication solution (a two-feeder radial loop), but the addition of a communications system eliminates the necessity of close-onto-fault logic, and if the communications system is protection-speed, the restoration time can be drastically improved. This relay-to-relay solution, often called high-speed loop sectionalizing, is a simple solution that places no limits on the number of switches or reclosers in series on a radial loop.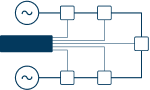 Regional and Centralized
More centralized FLISR solutions utilize software and computing platforms capable of communicating with breakers, reclosers, and switches to gain wide-area system visibility. Designed to scale to hundreds or thousands of switching devices, these FLISR solutions are generally deployed in either the substation or distribution control center. Software-based FLISR solutions make it possible to rapidly and economically deploy FLISR across a wide area containing complex and unique distribution feeder topologies.
SEL FLISR Solutions
Distribution Management System (DMS)
Our secure, container-based platform for operational technology environments, SEL Blueframe, provides several application suites. The DMS application suite includes a FLISR software package that allows utilities to clearly visualize their distribution system, monitor the status of field devices, issue commands and access reports. This wide-area system visibility and software-based FLISR deployment enable simple scalability for up to thousands of feeders on both overhead and underground systems.
Automation Controllers and Communication
SEL automation controllers and computing platforms make it possible to collect IED data across a wide area using many different protocols. Distribution automation solutions running on these platforms make that data visible and actionable, capable of taking automated action to improve the efficiency and reliability of the distribution system.
SEL Distribution automation solutions are designed to support many different communications technologies, including the SEL-3061 Cellular Router and SEL-3031 Serial Radio Transceiver. SEL's wireless products make it possible to access the large quantity of data available in modern IEDs quickly and efficiently, employing that data in solutions like DMS FLISR.
Recloser Controls
Our recloser controls improve system reliability by clearing faults and isolating outages to the smallest possible section of the system. Combined with additional protection and/or communication devices, this FLISR solution can cut response time down to milliseconds.
SEL recloser controls offer single- and three-phase tripping and are compatible with many recloser models.
Proven Reliability and Lifetime Support
Every SEL solution comes with the most reliable devices and best warranty in the electric power industry—plus free technical support for SEL products and systems.
We've collaborated closely with our customers since the company was founded nearly 40 years ago. And it's a major reason why we're North America's most trusted provider of protective relays and ranked #1 by international utilities in price, service, and support.