Cybersecurity for Critical Infrastructure
Keep critical infrastructure secure and strengthen your cyber defenses with SEL systems, products, and services.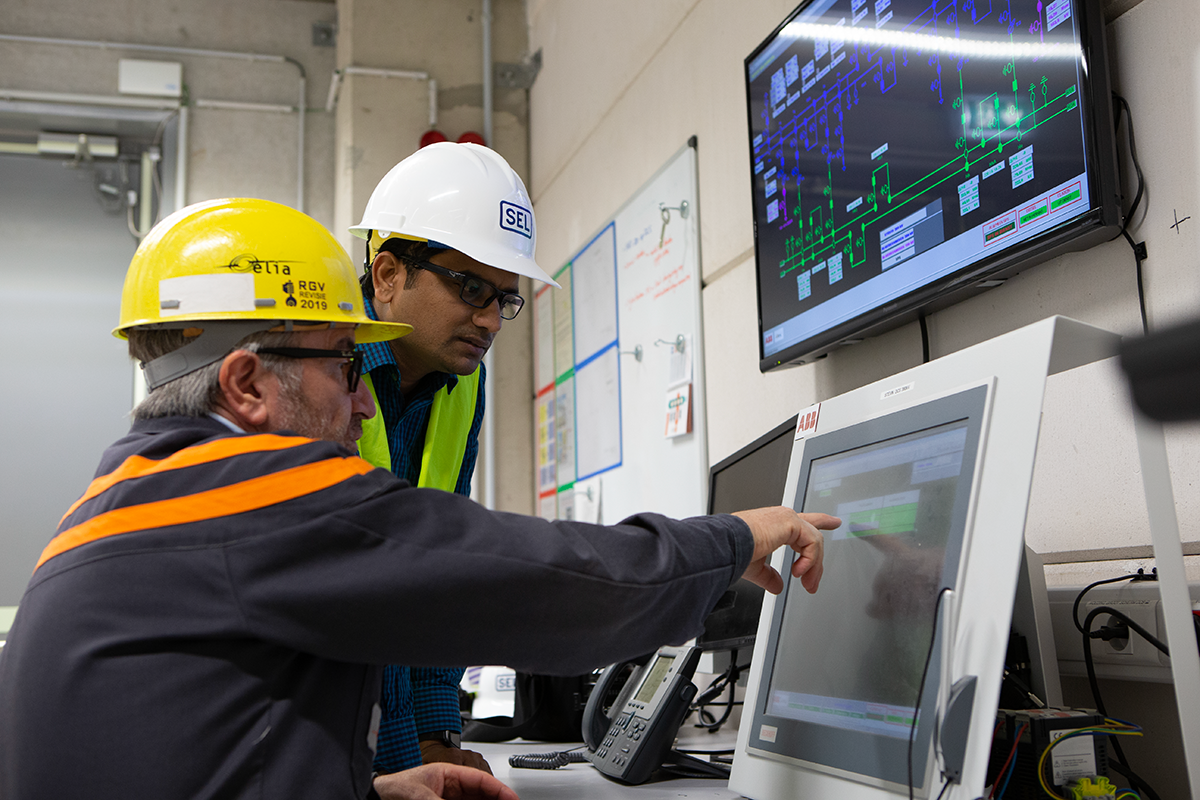 We design cybersecure systems and solutions for electric power utilities based on an in-depth understanding of operational technology (OT) performance requirements, critical electric power grid infrastructure, and our customers' specific needs.
Layered Cybersecurity
All SEL solutions incorporate layered cyber defenses to help keep your system secure. These defenses incorporate security features that support the specific purpose of each part of the system, such as:
Role-based access controls.
Integration with multifactor authentication systems and one-time-password (OTP) solutions.
Encrypted external communications via VPN with IPsec.
Hardened engineering access and HMI systems.
SEL networking solutions and automation controllers can also be integrated into security information and event management (SIEM) and intrusion detection systems (IDSs), which help detect and counter cyber attacks before they disrupt operations.
We thoroughly review and test every line of code in our products, which provides greater control over their quality, security, and functionality. Source code is continually monitored for new threats, and we notify our customers of updates and security patches for the full life of the product.
Secure Networking for Critical Infrastructure
SEL OT Software-Defined Networking (SDN) is a protection-class Ethernet networking solution designed from the ground up to meet the demands of critical infrastructure applications.
Its deny-by-default architecture allows communications only on paths that the system owner has authorized. Packets are forwarded only if they come from an approved device at an approved physical location and are speaking an approved conversation for that device.
OT SDN provides the simplest way to engineer IEC 61850 networks. Its automated network provisioning process leverages the same configuration files that are used for a system's relays—saving time and reducing room for human error.
It also meets the rigorous security requirements for listing on the US Department of Defense Information Networks approved products list (the DODIN APL).
Cybersecurity Support and Services
Whether it's meeting regulatory requirements, implementing cybersecurity solutions, or providing ongoing security support, SEL Cyber Services professionals are ready to partner with you.
Cyber services support contracts can include incident response, audits, system hardening, patch and update management, and more. 
We also freely provide a broad set of cybersecurity best practices that utilities can begin using immediately to improve the security of your systems and mitigate the risk of a damaging cyber attack. 
Supply Chain Security and Cybersecurity
We practice secure supply chain management and help our customers comply with applicable supply chain and cybersecurity standards (for instance, NERC CIP-013 for certain North American utilities).
SEL electronic devices are made in America, in facilities we own and operate. The information security systems that underpin SEL research, development, manufacturing, and corporate environments are certified to internationally recognized standards . 
A Partner for Any Modernization Project
SEL offers modernization solutions and services for any part of the grid, scaled to your needs. Partner with us on individual projects or multi-year modernization programs.
We design electric power systems, coordinate procurement and construction, manufacture the relays, build the panels, and install and commission the protection and control systems.
Simplicity at Every Stage

—Streamline your grid modernization program with a single PO. We offer a single-vendor solution for the entire process—from design and permitting through building, installation, and commissioning. This simplifies budgeting, project management, and timelines, ensuring on-time delivery.

Advanced Technology

—SEL solutions offer the fastest protection available. They also improve systemwide visibility and control through cybersecure remote engineering access, automated event collection, and precise fault location, among other benefits.

Access to Experts and Product Support

—Engineering support is available to you before, during, and after a project. After commissioning, you receive 24/7 support from SEL application engineers. Technical support is available for the lifetime of every SEL device at no cost.

Reduced Total Cost of Ownership

—Our simplified project management approach, advanced technology, and expert support lower your O&M costs in the short term and for the entire life of your modernized system.
Partnership and Support
We believe you should never have to worry about whether your protection and control systems will be working when you need them most. That's why you always have access to SEL engineers—and every device we manufacture comes with a ten-year warranty and free technical support.