Schweitzer Engineering Laboratories
Newsroom
Nov 10, 2020
SEL releases color touchscreen meter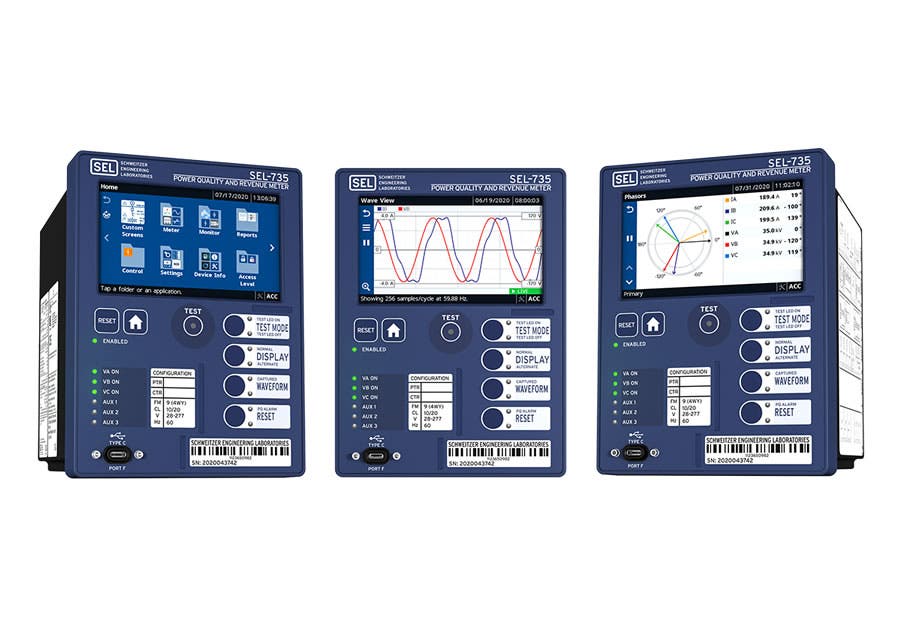 Schweitzer Engineering Laboratories has released the color touchscreen display on the SEL-735 Power Quality and Revenue Meter to streamline commissioning, testing and daily use for operators and technicians.
The 5-inch color display offers an intuitive interface, an easy-to-navigate menu structure, laptop-free commissioning capabilities and immediate access to a variety of detailed power system information. Operators can monitor energy consumption, view phasor diagrams, analyze system waveforms and much more—all in real time and high resolution. With the meter's always-on display and autorotating screens, data can be viewed at any time, even from a distance.
The touchscreen meter includes advanced power quality and recording, a USB-C front communications port, copper 10/100BASE-T Ethernet, EIA-232 and EIA-485 serial ports and the IEC 61850 communications protocol. An enterprise data collection and reporting software bundle is also available with popular models.
Learn more about the SEL-735 touchscreen meter on the product webpage .
Back to Newsroom