Introducing the SEL-3350 Computing Platform
A powerful and cost-effective solution for the world's harshest operating environments.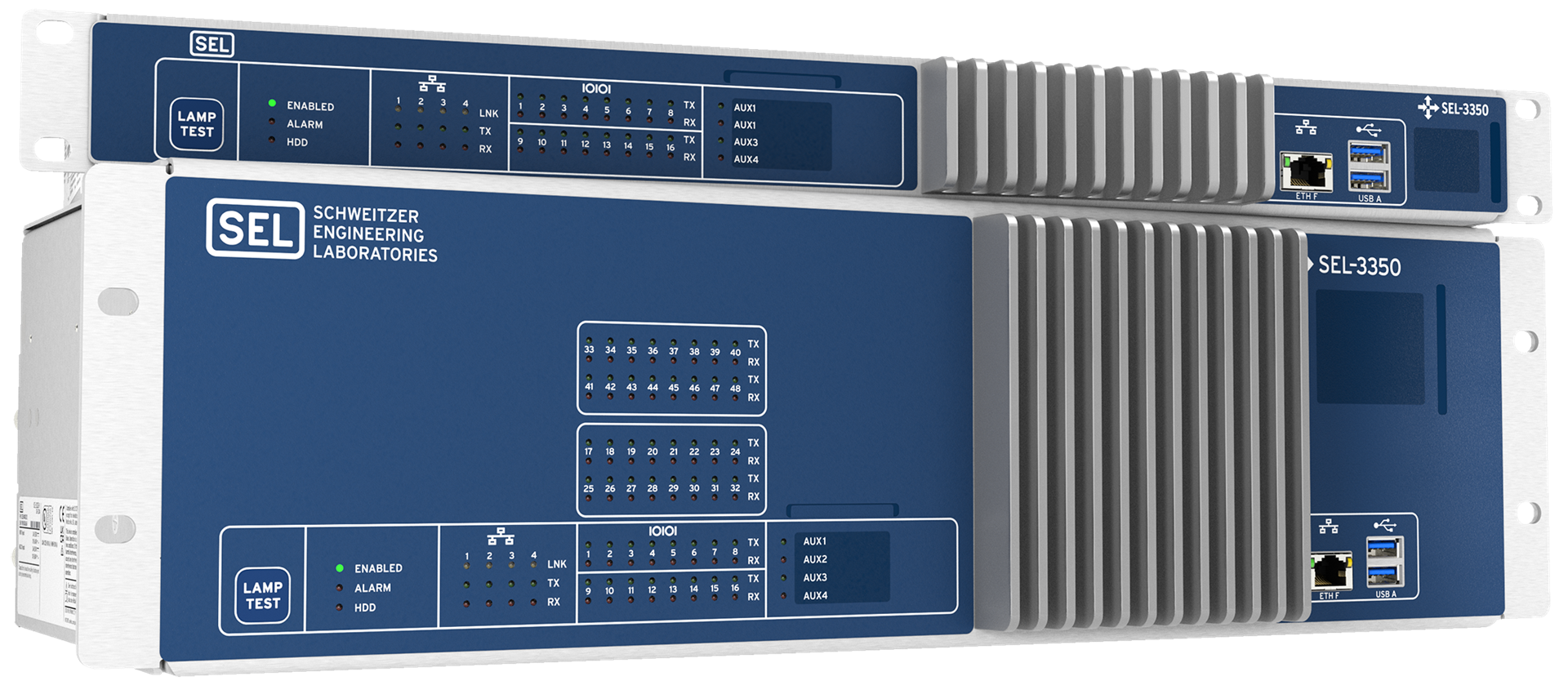 The SEL-3350 is a rugged, versatile device that can be configured—and easily reconfigured—as a Real-Time Automation Controller (RTAC), a Blueframe application platform, or an industrial computer running Linux or Microsoft Windows OSs.
As an RTAC, the SEL-3350 represents the next generation of the popular SEL-3530 model, offering 1U and 3U form factors, the same operating temperature range, and a similar price range—but delivering even greater processing power, larger storage capacity, and the addition of video output.
Diverse Applications
The SEL-3350 provides flexible functionality for a wide range of utility and industrial applications.
As an RTAC, it offers data concentration, protocol conversion, secure remote access, and an HMI for system visualization, monitoring, and control. With up to 24 software-selectable digital inputs, 8 digital outputs, and 48 serial ports, the SEL-3350 3U form factor is well suited for substation gateway applications and is an ideal replacement for SEL-2030 and SEL-2032 Communication Processors and legacy remote terminal units. 
Additionally, the SEL-3350 can be configured with Windows or Linux OSs to support third-party and custom applications. It can also be implemented as an SEL Blueframe application platform to run our growing library of specialized software applications.
Powerful Performance
The SEL-3350 features an Intel Atom 1.6 GHz quad-core processor with 8 GB of RAM—allowing it to run up to four time-critical applications simultaneously and perform over five times faster than the SEL-3530 RTAC.
Integrated Video Output
The SEL-3350 includes a DisplayPort, which can support 4K resolution and up to three monitors. This video output allows users to view the HMI locally without connecting an additional computer, providing more convenient access to system data and controls.
Expanded Storage Capacity
The SEL-3350 can be equipped with two industrial-grade SSDs, offering a variety of storage configurations. As an RTAC or Blueframe platform, it offers up to 1.9 TB of storage space. As a Windows- or Linux-based computer, it can support a total capacity of 3.8 TB.
Durable Design
SEL computing platforms feature a solid-state design with an advanced thermal management system—eliminating all fans, vents, and moving parts. They are engineered to withstand extreme events and conditions, ranging from electrical surges and electromagnetic interference to seismic activity and corrosive agents.
In addition, the SEL-3350 offers the widest operating temperature range in the industry: –⁠40° to +85°C (–⁠40° to +185°F). This allows the SEL-3350 to be installed in even the most challenging environments, such as outdoor cabinets in hot climates.
Proven Reliability
All SEL computing platforms are designed and tested to meet the same rigorous standards as our protective relays. As a result, our computing platforms have a mean time between failures (MTBF) of over 400 years*—a metric based on actual field performance, rather than predictive modeling. We demonstrate our confidence in these products with a worldwide ten-year warranty, which is unsurpassed in the industry.
Learn more about the features and applications of the SEL-3350.
*This MTBF metric was calculated in

June 2023.