Schweitzer Engineering Laboratories
Newsroom
Aug 31, 2020
SEL releases ultra-high-speed transmission line relay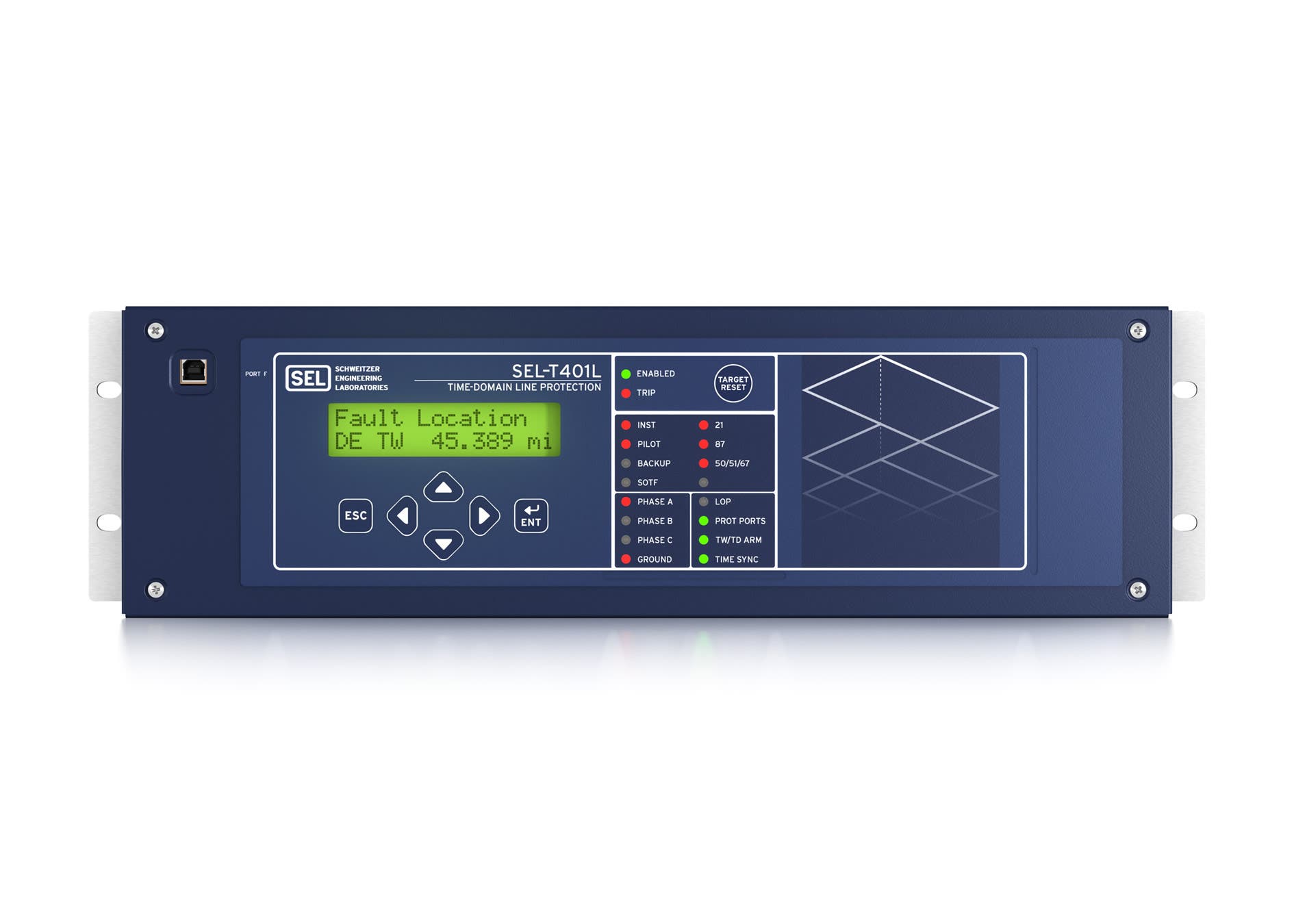 In power system protection, every millisecond counts. Faster fault clearing improves public and utility personnel safety, widens transient stability margins, limits equipment wear, improves power quality and confines property damage. Schweitzer Engineering Laboratories has released the SEL-T401L Ultra-High-Speed Line Relay, which combines the field-proven traveling-wave-based and incremental-quantity-based technologies pioneered in the SEL-T400L Time-Domain Line Protection with a complete suite of phasor-based protection functions that you expect in a line protection system.
The time-domain protection elements and schemes in the SEL-T401L operate on the order of 1–5 ms, and the relay includes high-performance distance protection with subcycle operating times. The SEL-T401L also offers dependable protection and supervisory functions, including sensitive directional, switch-onto-fault, overcurrent, over- and undervoltage, load-encroachment, out-of-step tripping and power-swing blocking elements.
The SEL-T401L traveling-wave and incremental-quantity protection elements and schemes are well suited for lines near nonstandard generators, such as wind generators or inverter-based sources; in low-inertia systems with HVDC links; and in systems with series compensation. The relay also features several enhancements in areas such as sensitive directional elements, memory polarization and use of sequence components in general to address these emerging power system characteristics.
The SEL-T401L provides utilities with a state-of-the-art fault-locating technology. It locates faults within a single tower span on overhead, cable and hybrid lines. The SEL-T401L also includes a line monitor feature to assist with condition-based line maintenance, allowing utilities to prevent line faults and to discover weak spots along the line.
With the SEL-T401L, utilities can gain efficiency by using common SEL configuration and integration tools and benefit from strong diversity in hardware, software and protection operating principles. They can also reset the complexity of their line protection applications and in turn reduce human error thanks to the relay's simple and robust protection philosophies and a considerably lower setting count.
Learn more about the SEL-T401L on the product webpage .
Back to Newsroom