Schweitzer Engineering Laboratories
Newsroom
Dec 15, 2020
SEL expedites development of product to help with ultra-cold vaccine storage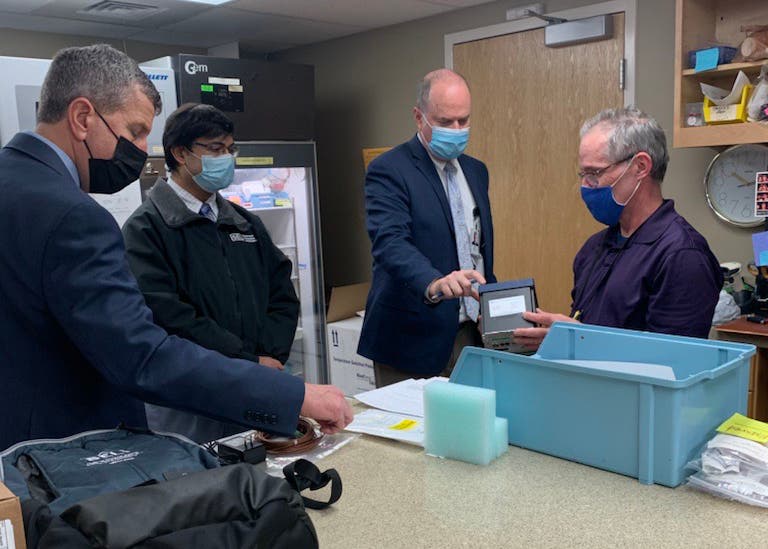 PULLMAN, Washington—Schweitzer Engineering Laboratories has developed a new product that provides specialized temperature monitoring and logging for the cold and ultra-cold environments required to properly store new COVID-19 vaccines.
The idea for the SEL-2411TM Temperature Monitor Digital Data Logger came about two weeks ago when Kane Francetich, chief information officer for Gritman Medical Center in Moscow, Idaho, contacted SEL. He was in search of two ultra-low temperature monitors for the freezers that will store the incoming COVID-19 vaccines, but found they were on back order from their regular supplier.
"When we received the email from Kane asking if we had a product that could help, we thought about what they needed and realized that we could modify one of our existing products to not only perform the tasks they needed but to do it very accurately, reliably and in a user-friendly way," said SEL President and Chief Technology Officer Dr. Ed Schweitzer. "Our R&D folks went right to work and had an excellent solution within a week!" 
Engineers at SEL made several modifications to the SEL-2411 Programmable Logic Controller, a device designed to monitor sensors in harsh electrical substation and industrial environments. 
The SEL-2411TM, which features an optimized display and SEL-designed temperature probes, works with any commercial refrigerator, freezer or ultra-cold freezer as a primary or secondary system to monitor temperatures at an accuracy of ±1 degree Celsius and record temperature data at configurable points in time. If a temperature fluctuation is detected, the display on the digital data logger turns red and an alert is sent. The plug-and-play device can monitor up to eight cooling units simultaneously. 
"Keeping the COVID-19 vaccines safe and at a specific temperature throughout the handling and storage process is critically important," said Gritman Medical Center Chief Information Officer Kane Francetich. "We are grateful to be using this unique technology made right here on the Palouse by Schweitzer Engineering Laboratories to help make sure the vaccine doses we will receive are kept safe are ready for use."The product is now monitoring the ultra-cold freezer and other special refrigeration units at Gritman where COVID-19 vaccines will be stored upon arrival.
"We are thrilled to be able to help hospitals and other vaccine distribution centers in our community and to be able to provide this great solution to others around the world!" said Schweitzer.
The SEL-2411TM complies with CDC recommendations for temperature monitoring devices used for vaccine storage and handling. 
The SEL-2411TM devices will be manufactured and shipped from SEL's manufacturing facility in Pullman, Washington. Monitoring service is also available from SEL's 24/7 Operations Center, also based in Pullman.
To learn more, visit the product webpage . 
Back to Newsroom