Schweitzer Engineering Laboratories
Newsroom
Oct 2, 2018
SEL, PNM are first to apply time-domain technology for protection of high-voltage transmission lines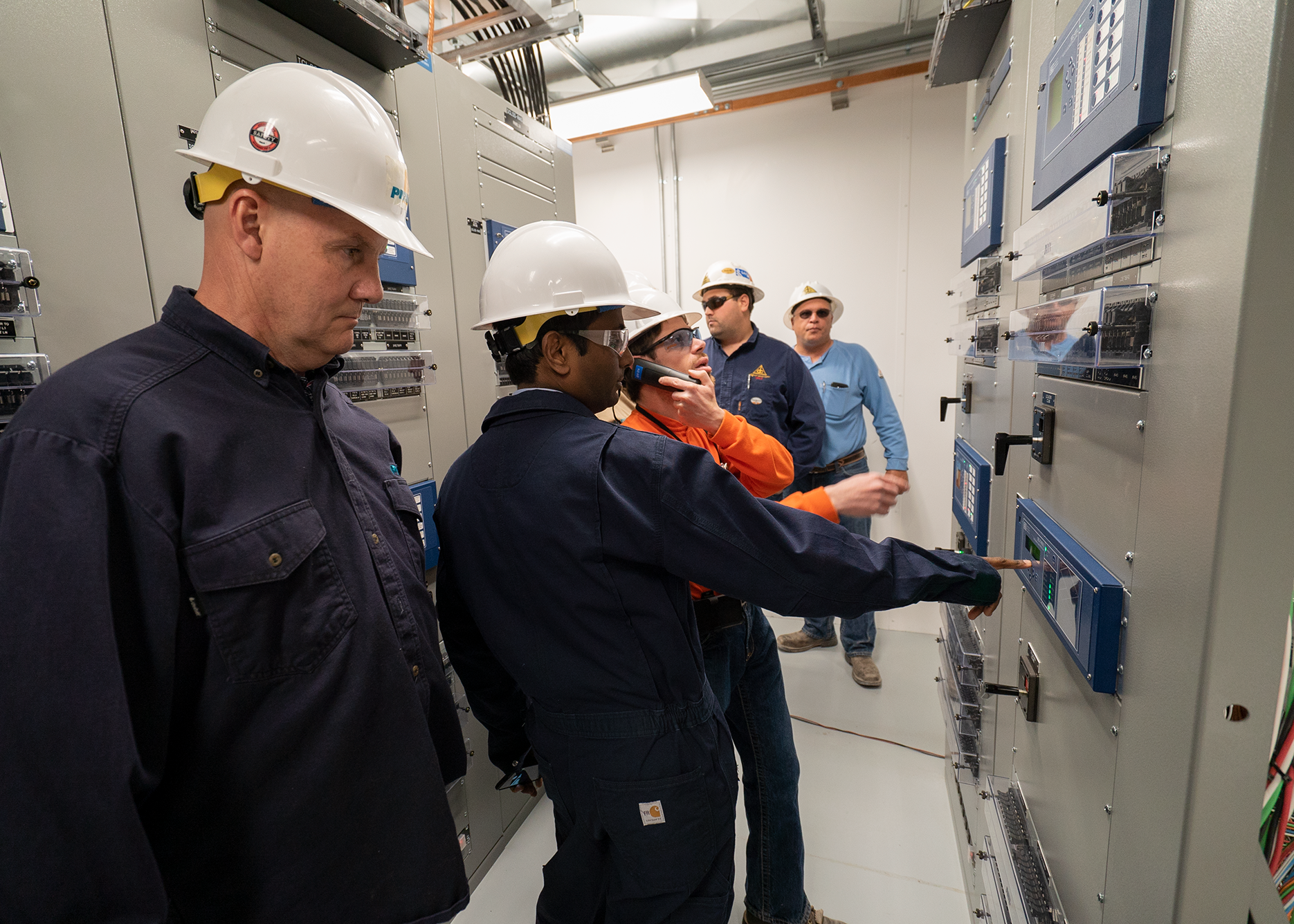 New power system technology provides ultra-high-speed protection and accuracy
Schweitzer Engineering Laboratories (SEL) is partnering with Public Service Company of New Mexico (PNM), the state's largest electricity provider, to be the first to protect high-voltage 345 kV transmission lines using time-domain technology. The SEL-T400L Time-Domain Line Protection is enabling the utility to achieve operating speeds and accuracy impossible through conventional means.
"With the SEL-T400L, we are leveraging the significant advantages of time-domain principles for protecting transmission lines and providing ultra-high-speed operation, increased fault location accuracy, decreased miscoordination and reduced complexity in system design," said Dave Whitehead, SEL chief operating officer. "We are excited PNM is the first utility to apply time-domain technology for transmission protection. Their use of this leading-edge technology sets PNM as an example of what utilities in the near future will be moving toward in terms of future transmission system protection."
The new relay scheme is an integral part of PNM's grid modernization efforts and investment in smart grid technology that will help the utility better serve more than 500,000 residential and business customers.
To meet the needs of growing regional energy demand, PNM recently added an interconnection and switching station to an existing 345 kV line, creating a connection to a neighboring utility. While the switching station allows the utility to locate their step-down transformers and other apparatus, it created a problem of overcompensation due to the series capacitor installed at one end of the existing line.
Here is where the SEL-T400L time-domain relay protection provides a creative solution. Traditional protection relays applied to overcompensated series capacitor lines are challenged by issues related to relay miscoordination, overreaching and fault location. These problems can lead to unnecessary outages or misoperations, according to Whitehead.
"Using traveling-wave and time-domain principles not only dramatically decreases fault detection time, it also gives the relay immunity to historical protection challenges like those created by series capacitors," he said.
The SEL solution for PNM combined the SEL-T400L with the SEL-411L Advanced Line Differential Protection, Automation, and Control System to provide complementary time-domain and phasor-based protection along with platform diversity. PNM is relying on the ultra-high-speed performance and accuracy of the SEL-T400L to quickly detect faults on overcompensated transmission lines and redundant SEL-411L relays to provide conventional step-distance and communications-assisted protection schemes.
PNM performed a complete engineering analysis of time-domain technology applied to their application. They studied the data SEL shared from numerous SEL-T400L relays operating in a monitoring mode at other customer sites. PNM also tested the solution through extensive simulation and modeling using the Real-Time Digital Simulator (RTDS) at SEL to gain confidence in its performance across a multitude of potential scenarios and fault locations and types.
"We are more than excited to be able to implement an industry-first in transmission line system protection with SEL's ultra-high-speed time-domain technology," said Todd Fridley, PNM VP of New Mexico Operations. "Today's electric grid is more critical than ever and the traveling-wave time-domain capability and technology is truly a quantum leap forward in providing superior system protection. We are deploying this smart technology as part of our grid-wide modernization efforts currently underway, and these investments will enable PNM to provide increased grid security, reliability and improved service to our customers."
SEL is also working with PNM to develop uniform system protection schemes in order to reduce complexity, enable standardized testing practices, ensure relay coordination and reduce operation and maintenance costs.
Back to Newsroom