Schweitzer Engineering Laboratories
Newsroom
Aug 21, 2017
SEL wins USEA Project of the Year Award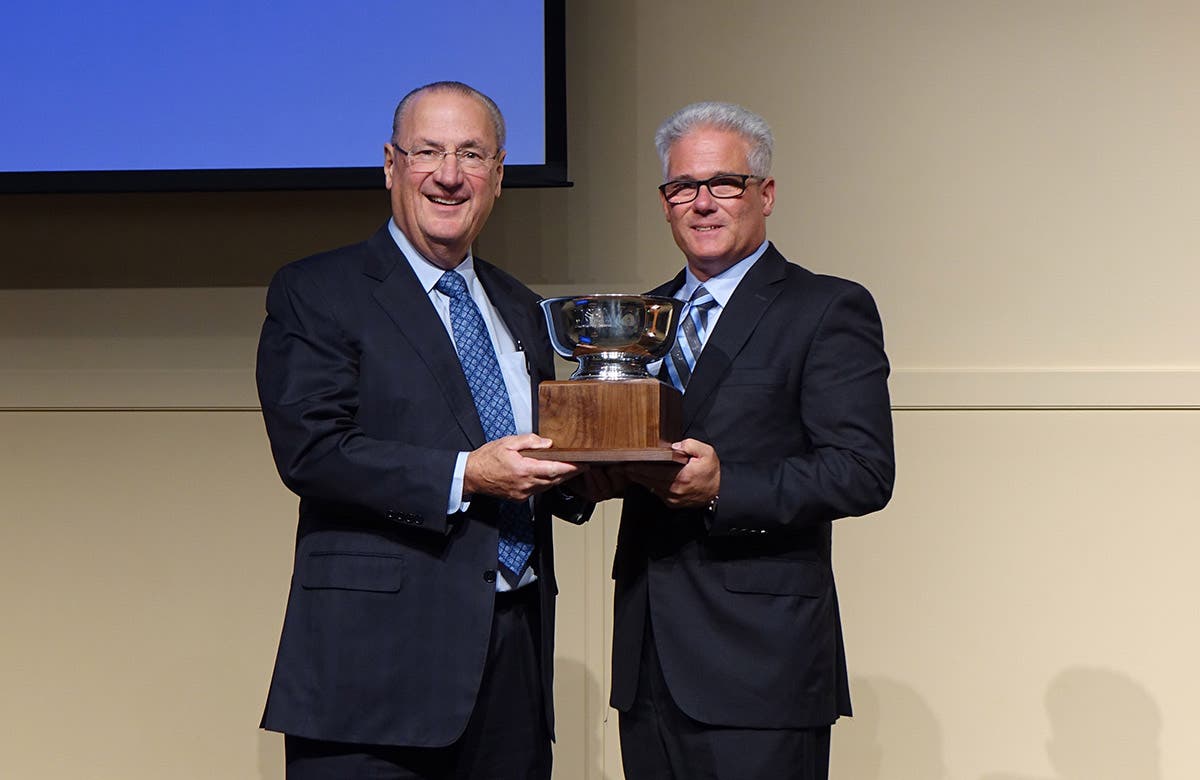 PULLMAN, Washington — The U.S. Energy Association presented Schweitzer Engineering Laboratories with the 2016 Project of the Year award for its work to improve power system reliability for two villages in Brcko, a major municipality in Bosnia and Herzegovina. The award was presented Friday at the company's headquarters in Pullman.
"We work hard to design and build safe, reliable, and economical solutions that improve the lives of people around the world," said SEL President Edmund O. Schweitzer, III. "We were honored to be a part of this project and able to dramatically improve power reliability in Brcko, and this is just the beginning! Thank you to the USEA for recognizing our work with this award."
USEA chose SEL as a partner on the project, in collaboration with the U.S. Agency for International Development, because of the company's unique approach to distribution automation. SEL's Distribution Network Automation® solution or DNA combines the intelligence of power system devices with secure communications to react quickly when faults occur, increasing safety and reliability without having to upgrade existing infrastructure.
This technology was able to reduce the number of outages in Brcko by 51 percent, and shorten the duration of outages by 58 percent.
"SEL is dependable, and its technology for the Brcko project has changed lives. The citizens of Brcko suffered frequently from electricity outages caused by weather events and technical malfunctions. But no more," said USEA Senior Director Will Polen, who presented the award to Schweitzer during the company's weekly company-wide lunch.
"And while this project was a small intervention, it has served as a proof of concept that can be replicated and scaled up throughout southeast Europe. We plan to share this technology with other municipalities in the region," Polen said.
Under the Brcko project, USAID and USEA provided support for engineering and training to integrate the SEL technology into the Brcko electricity distribution network. SEL provided equipment, consulting support and additional engineering services.
For photos and video footage from the event, click here .
About Schweitzer Engineering Laboratories SEL invents, designs, and builds digital products and systems that protect power grids around the world. This technology prevents blackouts and enables customers to improve power system reliability, safety and cost. SEL, a 100 percent employee-owned company that is headquartered in Pullman, Washington, has manufactured products in the United States since 1984 and now serves customers in 157 countries. SEL provides unmatched technical support, customer service and a 10-year worldwide warranty.
About USEA  The United States Energy Association (USEA) is the U.S. Member Committee of the World Energy Council (WEC). USEA is an association of public and private energy-related organizations, corporations and government agencies. USEA represents the broad interests of the U.S. energy sector by increasing the understanding of energy issues, both domestically and internationally.
Back to Newsroom