Schweitzer Engineering Laboratories
Newsroom
Jun 13, 2017
New pump controller brings SEL quality to water and wastewater utilities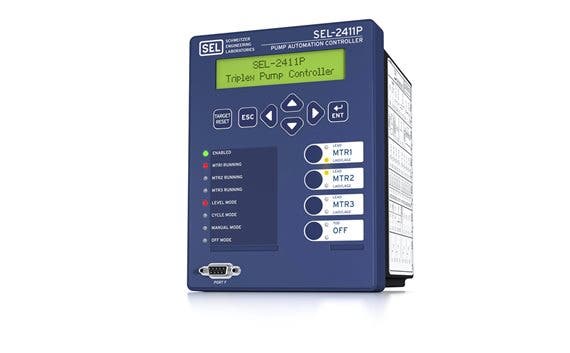 Simple, out-of-the-box configuration enables installation and use in new and retrofit applications
PULLMAN, Wash. — Schweitzer Engineering Laboratories (SEL) released the SEL‑2411P Pump Automation Controller, a reliable, economical solution for critical pump applications. Controller failures are costly and damaging in pump-up and pump-down applications, but the pump controller is built for unforgiving water and wastewater environments, ensuring years of maintenance-free monitoring and operation.
"The SEL-2411P is ideal for pump applications because it's absolutely reliable," said Robert Schloss, SEL development lead engineer. "Its mean time between failures is 60 times greater than traditional remote terminal units."
The pump controller offers a solution to many challenges the water and wastewater industry faces. These include avoiding the pollutant discharge of lift stations or potable reservoir overflows and increasing system and equipment visibility for efficient troubleshooting.
"You don't have to waste time and money on installation and maintenance," Schloss said. "It uses simple terminal labeling that makes the installation very easy."
In addition, the pump controller provides secure, user-accessible programming to facilitate system upgrades and expand functionality. Operators have the flexibility to monitor and control liquid levels for simplex, duplex, or triplex applications in wells and reservoirs or lift stations. The SEL-2411P can also control constant-speed, variable-speed and alternating pumps and is compatible with analog level sensors, floats or a combination of both.
To facilitate integration, the pump controller is a preconfigured, SCADA-ready device that uses industry-standard protocols (e.g., Modbus®, DNP3 over Ethernet and serial interfaces) and includes configuration software to provide complete customization options.
SEL's environmental testing ensures that every unit performs in harsh water and wastewater environments. Tested to withstand 15 g of vibration, 15 kV of electrostatic shock, and temperatures from –40° to +85°C (–40° to +185°F), the pump controller includes SEL's 10-year worldwide warranty and lifetime no-charge technical support.
To learn more about the SEL-2411P, visit www.selinc.com/p258/ .
SEL serves the water and wastewater industry worldwide through the design, manufacture, supply and support of products and services for power system protection, monitoring, control, automation, communications and metering. For more than 30 years, SEL has provided industry-leading performance in products and services, local technical support, a 10-year worldwide warranty and a commitment to making electric power safer, more reliable and more economical.
Back to Newsroom