In 2010, SEL introduced the SEL ICON Integrated Communications Optical Network. The ICON is a SONET (Synchronous Optical Network) communications solution that incorporates Ethernet technology and other flexible drop interfaces to provide an integrated data and voice communications solution in a single platform. One of the innovative features incorporated into the ICON is the ability to maintain and distribute time over a wide-area network (WAN) with better than 1 microsecond accuracy so that very accurate relative time is maintained in the event of a GPS failure.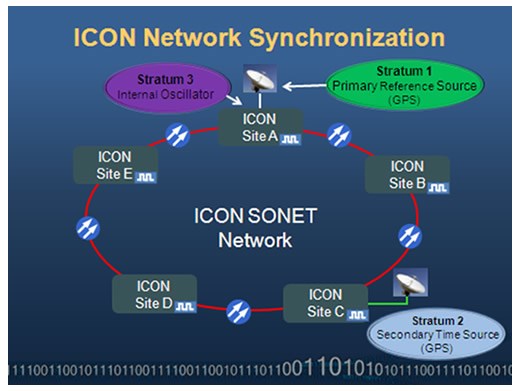 Fig. 3. The SEL ICON is shown configured in a SONET ring, providing accurate timing for each site.
Each ICON node includes a server module with an integrated GPS satellite-synchronized clock. This clock provides the high-accuracy timing needed for synchrophasors as well as the more stringent requirements of a Stratum 1 clock for SONET communications. When configured in a SONET ring, each individual node has a GPS clock. In SONET, one of these clocks is designated as the master (head end) time source and a secondary node is typically dedicated as a backup. If the GPS receiver at the primary location loses the GPS satellite signal, the system switches to the backup node and continues to maintain accurate time. This protects against localized GPS signal outages. Additionally, if there is a system-wide loss of the GPS signal (which is possible during a strong solar storm), the ICON system has a built-in time reference that maintains better than 1 microsecond relative time accuracy within the network of deployed ICONs. This provides an accurate system time reference for your power system during the GPS outage, thus allowing synchrophasor measurements to be made throughout your system. The system will slowly drift from GPS absolute time, but maintains accurate relative time. Once the GPS signal returns, the system returns to using GPS time.
Ensuring high availability of accurate time for synchrophasor measurements is critical because synchrophasor measurements are increasingly used to monitor, measure, and control the power system. There are several approaches that can be used to increase the availability of precise time. SEL can help you implement a solution using our GPS satellite-synchronized clocks, PMUs, and PDCs as well as integrate the ICON as the communications backbone with its ability to distribute accurate time over the entire network of ICONs. A complete system using the ICON provides a robust solution so your network never loses accurate time.
If you would like more information on how to increase the availability of precise and accurate time for your synchrophasor system or have any questions on how you can apply these solutions to your system, please fill in the form below to contact us.