Schweitzer Engineering Laboratories
Newsroom
May 17, 2021
Elaine Williams, Lewiston Tribune
Engineering a rapid response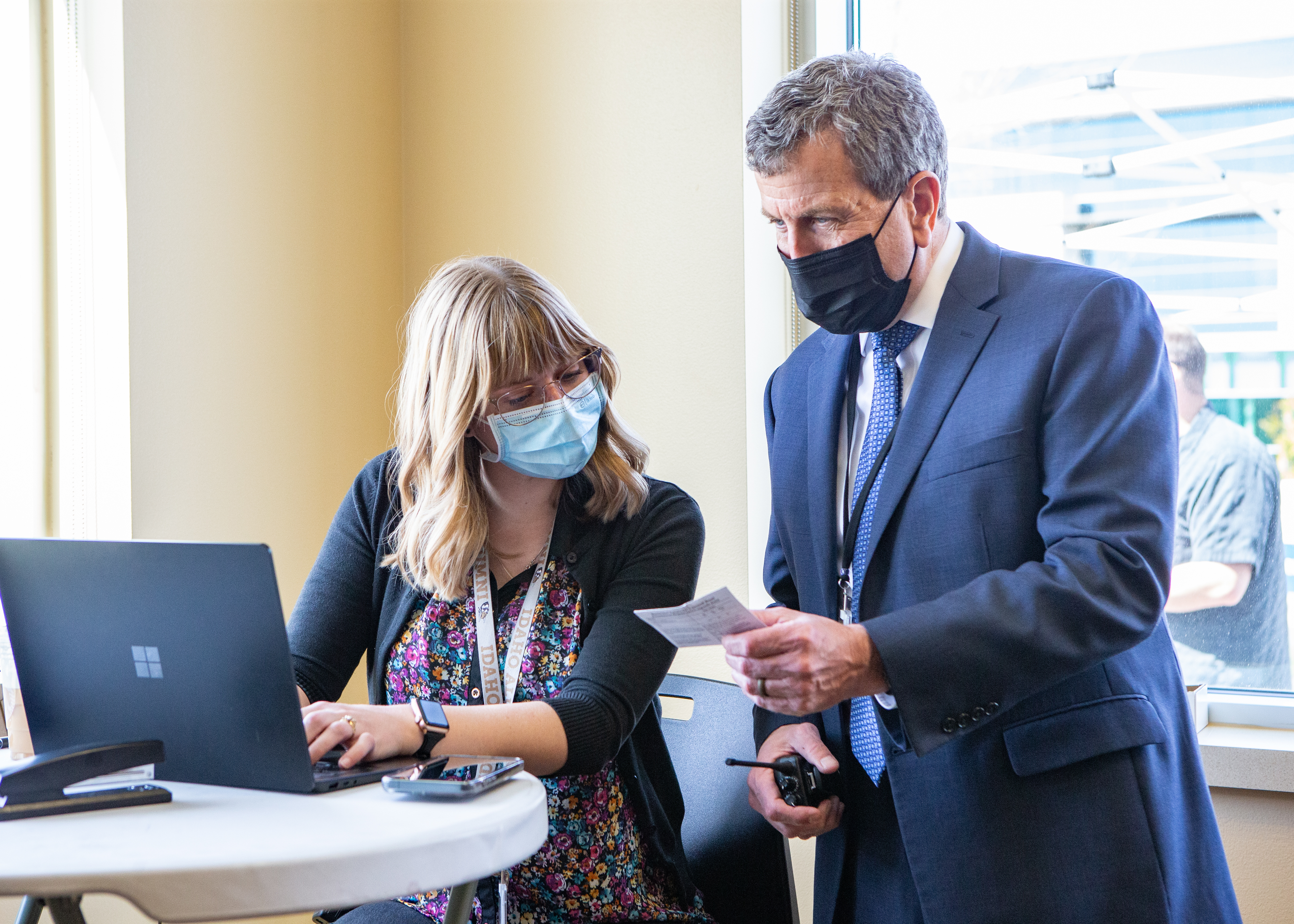 SEL organizes clinics that provide thousands of COVID-19 immunizations
Schweitzer Engineering Laboratories' immunization clinics were so much a part of the landscape in the rush to protect area residents against COVID-19, that something important went almost unnoticed.
The region's largest private employer voluntarily organized the clinics in Pullman and Lewiston that provided more than 23,000 vaccinations, most of which went to members of the public, not its employees.
One of the people orchestrating the effort was Frank Harrill, SEL's vice president of security, a man who played a key role in SEL's fight to limit the impact of the pandemic on numerous fronts.
The response was part of a strategy rooted in a company philosophy that puts a priority on the safety of its employees, Harrill said in an interview conducted by telephone and email.
"We live, work, raise our families and send our children to school in these communities," he said. "We all benefit when everyone around us is as healthy and productive as possible. The way to make a vaccination effort effective is to deliver the vaccine to as many people as you can, as fast as possible."
SEL has been a "fantastic" partner, said Scott Schlegel, a spokesman for Public Health-Idaho North Central District in an email.
"SEL really stepped up and helped in a big way with their mass vaccination clinics early on and played an important role in getting us this far in the vaccination process," he said.
Harrill and his team have been busy almost around the clock, rallying a group that included Dr. Keith Gautreaux, SEL's medical director, more than 50 reassigned SEL employees such as pilots, medical providers, Washington State University personnel, Whitman County and Public Health – Idaho North Central District employees and volunteers.
The company's Pullman event center and Lewiston lunch room were converted to clinic sites.
Procuring vaccine and scheduling appointments with members of the public who frequently were struggling to understand quickly changing rules in Idaho and Washington about who was eligible for the vaccine has been part of the work.
Initially, each clinic required about 65 volunteers, but that number dropped by more than half as SEL refined its procedures. The company also offered free child care to clinic volunteers.
SEL often summoned in-house talent. Research and development and manufacturing experts evaluated the vaccine delivery process, measuring safety and efficiency.
They reduced the average clinic stay from about 30 minutes to about 20 minutes, including the 15-minute post vaccine wait, with the clock starting when individuals entered from the parking lot.
"We learned that seemingly small refinements pay large dividends at scale," Harrill said. "For example, having assistants remove syringes from (the) packaging prior to pharmacist (or) nurse vaccine preparation can decrease the average dose draw time by up to 40 percent."
Harrill declined to put a dollar figure on SEL's contribution, describing it as "significant and well worth it."
The vaccination clinics were just part of a multifaceted effort that started in February 2020, when many people in the public were unaware of the challenges COVID-19 would pose.
"We began scaling up our remote work systems, communicating with our employees about what was likely to happen, and working with our suppliers to responsibly increase our reserve inventory of the critical components used in our products to reduce the risk of depletion as orders from critical (industries continued) to come in," Harrill said.
Keeping SEL plants running by preventing the spread of infections at them was part of supporting the national and international battle to limit the impact of the pandemic.
SEL's high-tech products protect "virtually all electric utilities in North America," along with hospitals, pharmaceutical manufacturers, chemical producers, water treatment facilities and data centers, he said.
Even though SEL expects the large-scale vaccination clinics, which have been the most public part of its response, to be less frequent in coming weeks, the company still is monitoring all developments with COVID-19 closely, Harrill said.
"We are always ready to vaccinate in large numbers should the situation require it," he said.
Reprinted with permission of the Lewiston Tribune, copyright 2021.
Back to Newsroom