Schweitzer Engineering Laboratories
Newsroom
Oct 24, 2020
Justyna Tomtas
Lifting the curtain on LCSC center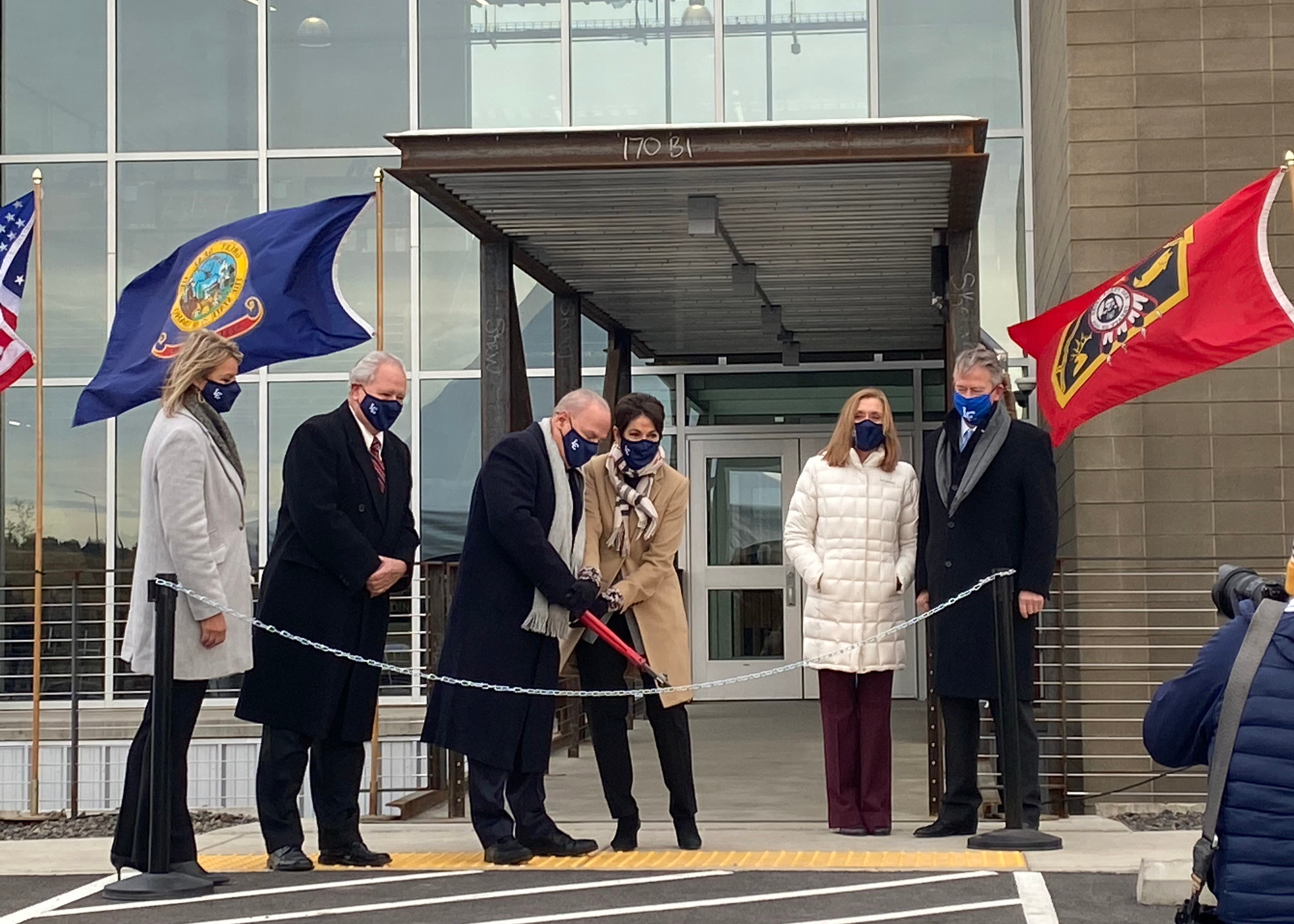 Opening of Schweitzer CTE Center celebrated with chain-cutting ceremony Friday morning in Lewiston Orchards
Community members and statewide leaders gathered in frigid temperatures Friday morning to witness a ribbon-cutting ceremony for a facility that Idaho Gov. Brad Little said would create a pipeline of opportunity across the state.
Roughly one and a half years after the groundbreaking ceremony, Edmund O. Schweitzer III took a pair of bolt cutters and sliced through a chain, signifying the impending opening of Lewis-Clark State College's new Schweitzer Career and Technical Education Center in the Lewiston Orchards.
The more-than-86,000-square-foot building will open its doors in January to students in seven of LCSC's 10 career and technical education programs.
"In challenging times, it's great to be in a strong community like Lewiston celebrating the hard work of many different community leaders and donors to lay the foundation for success and prosperity for this and future generations of Idaho," Little said.
The new center, located near the Lewiston School District's new high school, and its A. Neil DeAtley Career Technical Education Center, is a model that Little said he wants to see replicated across the Gem State.
Schweitzer, the owner of Schweitzer Engineering Laboratories, said the new facility will allow students to learn by doing, instead of just listening and learning. The building, touted as a "living textbook," lets students see and touch infrastructure that was intentionally left exposed so they can get a sense of how the systems operate.
"We feel this new CTE (building) will empower more folks in our community to learn, grow and prosper," Schweitzer said. "It's an innovative approach to education focused on what's best for students not just today, but for their entire lives."
Schweitzer's wife, Beatriz, said the facility will give students the opportunity to stay locally as they pursue careers in high-demand fields.
"What is more important for us as parents than seeing our children grow up, live happy and product lives and stay local, building a strong and happier community?" Beatriz said.
The Schweitzers donated $1 million to LCSC to secure the namesake of the new building, while their company, SEL, gave another $2 million toward the projects. Overall, the college has raised around $7.5 million in donations for the center.
To read the article, click here .
Back to Newsroom