Schweitzer Engineering Laboratories
Newsroom
Apr 23, 2019
The Schweitzer center begins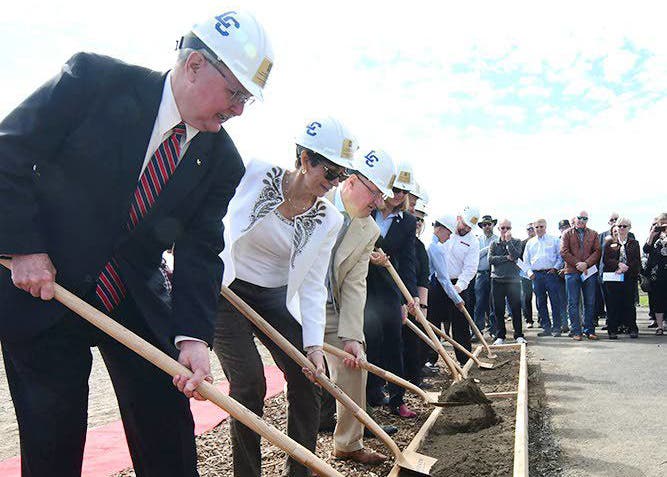 LCSC's regional facility projected to benefit local industry and allow more people to stay in the valley
A project more than 100 years in the making reached a significant milestone Friday as supporters and officials of Lewis-Clark State College broke ground on the college's new Schweitzer Career and Technical Education Center in the Lewiston Orchards.
In a brief ceremony, LCSC President Cynthia Pemberton said the roots of career and technical education in Lewiston can be traced back to April 1901, when a women's services organization discussed "manual training" in public schools.
From that time on, career and technical education remained a focal point in the Lewiston-Clarkston Valley, culminating in a partnership that will provide more educational access and opportunities for students in the region.
"This is an important education project," Pemberton said. "It's a project that will not only serve, facilitate and support career technical education, pathways and opportunities, but it will also serve to meet broader educational industry needs in the region to the benefit of our students and the community."
The 75,000-square-foot facility will be situated north of the the Lewiston School District's new high school and the district's A. Neil DeAtley Career Technical Education Center.
Once the three facilities open in fall of 2020, the new campus will provide students with a central location to pursue career technical jobs in what Pemberton said is an effort that "paves the way for even better tomorrows."
Edmund O. Schweitzer III, and his wife, Beatriz, received praise for their contributions that helped streamline the project. The Schweitzers donated $1 million, while their company, Schweitzer Engineering Laboratories, gave $2 million toward the project.
Since that time, LCSC raised an additional $5.2 million in grants and support for the $24.5 million project, which also will get $10 million from the Idaho Legislature.
"We are very happy to be a little part of this very important project," Beatriz Schweitzer said. "We very much believe in education and opportunity. I think this project is precisely that."
The facility will produce more skilled workers to benefit SEL — and other industries in the Lewiston-Clarkston Valley and the local economy as a whole — while providing people with an opportunity to work where they want to live, the Schweitzers said.
"Family is so important to us, and as parents what is more important than seeing our kids grow up and live happy and productive lives?" she said. "It allows people to stay local so we can enjoy our children and hopefully some grandchildren, building a stronger and happier community."
Giving students a place to hone their skills in their hometown, or within their region, will have significant benefits for them and their families, Edmund Schweitzer said.
"With internships, summer employment, studying while living at home, I bet more folks can graduate from LCSC without any student debt," he said, a remark that was met with applause. "This project brings education closer to home and accessibility to many more families and students."
Idaho Gov. Brad Little said the project and partnership is "the crown jewel in the state of Idaho."
"This facility was, A, a logical move and, B, it was a bold move," Little said.
Little called the marriage between LCSC and the Lewiston School District to provide seamless educational opportunities a "big, hairy, audacious goal," that "was the right thing" to do.
It'll help the state of Idaho fill the estimated 105,000 new jobs expected to open by 2026 that will require a higher skill level than ever before, Little said.
It'll also help continue the history of production and manufacturing businesses in the valley, he said.
Former LCSC President Tony Fernandez, who served as master of ceremonies, and Lewiston School District Superintendent Bob Donaldson were credited for their vision to bring the project to fruition.
As the walls of the new Lewiston High School loomed within eyesight of the groundbreaking ceremony, those who contributed to LCSC's new center donned hard hats and wielded gold shovels for the ceremonial overturning of dirt, marking the start of the college's construction project.
Donaldson said the projects were always seen as a "package deal," something both he and Fernandez considered important.
"Our kids can go to school in this high school, be in our career technical programs and come over and take classes at LC to end up with an associate's or even a baccalaureate degree and never leave this campus," Donaldson said.
The center will house many of LCSC's technical and industrial division programs like information technology, industrial electronics and auto mechanics.
The new space will shorten waitlists for programs at LCSC and eliminate some of the constraints imposed by the programs' current location on the main LC campus, Sen. Dan Johnson said, to provide a highly skilled trained labor source.
Other speakers at the ceremony included Idaho State Board of Education member Linda Clark, and Kyle Neal, who represented Rogers Motors, a company that donated $150,000 for the naming rights of the auto shop at the new center.
Reprinted with permission of the Lewiston Tribune. Copyright 2019.
Back to Newsroom