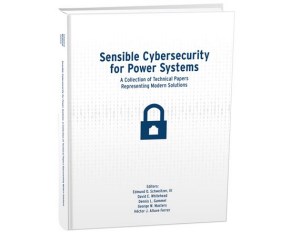 SEL has published a new book on power system cybersecurity. Sensible Cybersecurity for Power Systems is a collection of 28 technical papers by industry experts that offers an overview of challenges, opportunities, and solutions for modern power system cybersecurity.
Electric power systems rely on reliable and secure communications. Dependability, determinism, network recovery, and cybersecurity are fundamental concerns. Recent events such as the Ukraine cyberattacks show that electric utility protection and control systems are vulnerable to electronic intrusion when strong cybersecurity controls, processes, and procedures are not used.
This book, written by research and development engineers; field application engineers; and protection, control, and communications practitioners from the power industry, provides modern solutions to address these challenges.
The book is available for purchase in the SEL bookstore.